At NEW METALS INC., we are experts in perforated sheets, with our machinery, engineering team and years of experience making us the best option. One of the most creative branches of perforated sheets are those with random patterns. What is a random pattern? We're talking about figures and elements that are different from the rest of the elements in this pattern. In other words, a custom and unique design.
Perforated sheets with random patterns are used mainly for aesthetic purposes to enhance facades and complement the architecture of a building, whether with artistic or geometric shapes. You can create images, symmetrical figures, your company logo, the imagination is the limit.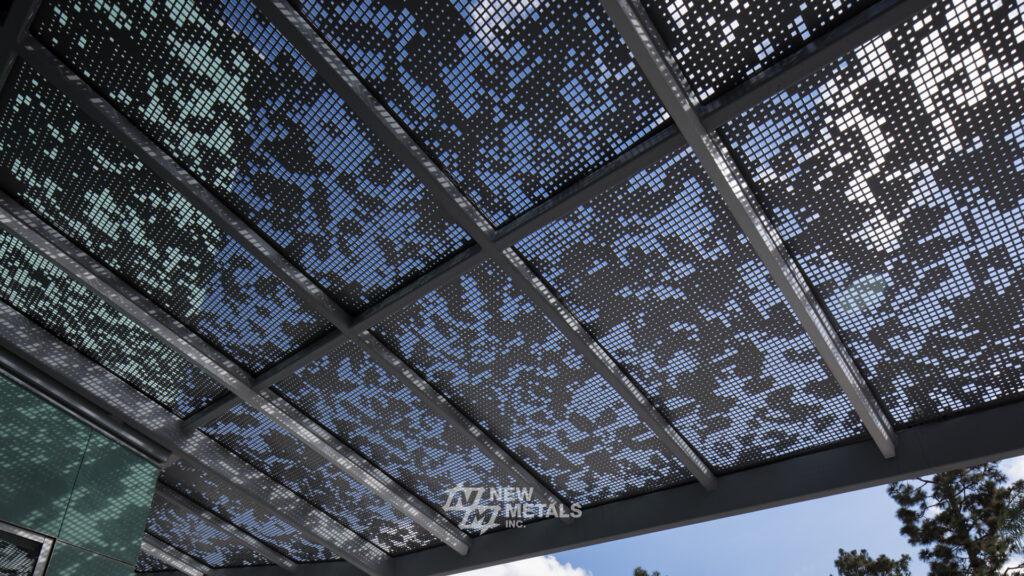 In addition to being an element that highlights the beauty of buildings, the different shapes that can be created achieve a novel and original design for your piece. The lightness of the materials used, with their thin thickness to achieve greater definition, helps regulate indoor temperatures in buildings, facades, etc.
To decide what type of material should be used to realize your idea, it is important to take into account the space, open area where it will be installed, remember that the perforations in the sheet allow for the flow of air and light. The size of the perforations, which will define the amount of particles that will pass through the sheet, and the geometry of the perforations, which can be composed of squares, rounds, rectangles and irregular shapes that will compose the chosen pattern.
But these random patterns that we manufacture at NEW METALS INC. are not only architectural complements, these shapes are also used in the creation of unique mechanical pieces and specialized components for machinery and equipment. Perforated sheets with random patterns are becoming an increasingly common resource, so look around in museums, industry, buildings and you'll find unique designs.
Come to us! The NEW METALS INC. team is ready to turn your idea into reality, applying it in the appropriate metals and measures to achieve it.